Community Involvement and Organizations We Support
Bedford Men's Club
Beech Street School
Bellesini Academy
Bishop Brady High School
Easter Seals
Families in Transition
Farnum Center
Habitat for Humanity
Kids in Disability Sports, Inc.
Knights of Columbus
Nashua Soup Kitchen
NH Food Bank
Pan-Mass Challenge (Dana Farber)
Pine Street Inn
Veterans Who Care
At Bartley Financial Advisors we work as a team contributing to our community. The main focus of this giving is in alphabetical order; breaking the cycle of poverty, financial literacy, food nutrition education, homelessness, hunger, substance abuse and veterans.
---
October 2017

Families In Transition 6th Annual Wicked FIT Run
Bartley Financial Advisors recently sponsored and volunteered at the Families in Transition 6th Annual Wicked FIT Run to "chase away homelessness" this past October.  Over $57,000 was raised to enable FIT to provide housing and services to homeless families and individuals across New Hampshire!
---
May 2017
Families in Transition (FIT)  Cinco de mayo celebration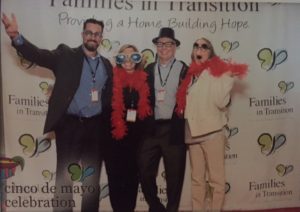 This spring Chris and I attended the Families in Transition (FIT)  Cinco de mayo celebration with my colleague Bianca and her husband Jay. This was a REALLY fun event. I highly recommend that you attend next year. Families in Transition is close to my heart, I am the treasurer and a board member. FIT makes an incredible difference in New Hampshire from housing the homeless, providing substance use treatment and center, intensive outpatient programs, etc. As Stephanie Allain Savard, a licensed clinical social worker and chief operating officer recently noted; "we are often times the only ones hopeful for our constituents…the goal is to transfer that hope to them over time." At each board meeting we hear mission statements for the people we serve. FIT has made such a tremendous difference in so many lives over the years. Their focus is on a hand-up beyond a hand-out for all New Hampshire individuals, kids, and families that are in need of assistance to improve their lives.
2017 Thunder Run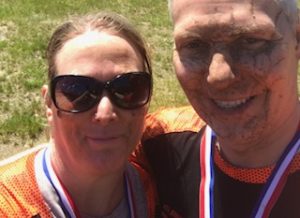 The is from the 2017 Thunder Run sponsored by the Raymond, NH Rotary Club . We teamed up with my wife Christine's co-workers for this 5k course, which took us through a bunch of mud and muddy water obstacles! There was also a log roll in a muddy river, sliding through a tube into muddy water (trying to keep your head from going under), crawling through a tunnel of muddy water with just enough space to fit your head, a 30-foot rope climb, scaling a 15 foot wall without any assistance…just to name a few! It was actually a lot of fun!
Easter Seals Spirit of Hope Event
Lastly, Chris and I, my colleagues Bianca and Kim and their husbands, Jay and Mike, attended the Easter Seals Spirit of Hope event for the Farnum Center.  The Farnum Center is a detox and substance abuse center in Manchester, NH. We attend and support this event every year. The work they do is incredibly necessary for addressing the opiate crisis, as well as alcoholism and other addictions.
---
May 2016
Spirit of Hope for Substance Abuse Event
Farnum Center Spirit of Hope event was held on May 18th to raise money for substance abuse. Where substance abuse/overdoses have become an epidemic, we decided to take this on as our major giving back campaign this year. BFA sponsored a table, advertised in the program and donated multiple items to the silent auction from gift certificates to Red Sox tickets. One of the gift certificates was from Bartley's Burger Cottage, Bob's family's restaurant.
---
May 2016
Liberty House for Vets Event
The BFA crew was back again at Knights of Columbus Veterans Liberty House Dinner on Saturday, May 21st.  Bob plated the food which was part of a 6 person team that served over 200 people in less than 30 minutes. He noted that his experience growing up in his family's fast paced restaurant helped A LOT!
---
December 2015
Families in Transition, (FIT) is a nonprofit organization serving Manchester, Concord and Dover, New Hampshire.  FIT was founded in 1991 in response to the growing number of homeless individuals and families in the greater Manchester area and throughout the state of New Hampshire. Since its inception, FIT has believed in providing a hand-up to individuals and families in need. FIT has been committed to providing only the most innovative, comprehensive, and effective interventions. These programs are specifically designed to help homeless individuals and families reach beyond the cycle of homelessness to lead healthy and successful lives. FIT's belief is that having a home is a basic human right and is fundamental to becoming an engaged and contributing member of our community.  We fully believe in FIT's mission. Our team was honored to volunteer during FIT's Alumni Holiday Celebration.
---
September 2014
We participated in a very important cause during Hunger Action Month. Thanks to many volunteers and businesses who contributed food items, we were able to help the NH Food Bank assemble Macaroni and Cheese meals for families and individuals in need. They surpassed their goal and package over 75,300 meals!