Just a quick update that highlights our recent Markets Out if Wack article. This market is not healthy. Performance helps provide an untarnished, fresh perspective. I can show a bunch of charts and graphs but let's keep this simple. The best chart or information is market performance. Market performance tells us a lot about where investors feel the economy is headed. For the past year ending on September 30th, investors/the market is signaling warning. Due to the big losses last fall, and bounce back in January and February (after the Federal Reserve and other central banks reversed course on the direction of interest rates/stimulus) the S&P 500 has not moved that much. If you subtract dividends the S&P 500 stock prices have only increased approximately 2% in the past year. 
What are the top performers?
Please see the chart below. The best performers over the past 3 months, 6 months and year have been; bonds, gold, real estate and utilities, the most defensive investments. For the past year, ending in September, long term US Treasury bonds, gold, real estate and utilities have increased from approximately 23% to 27%, while the S&P 500 increased only 4%.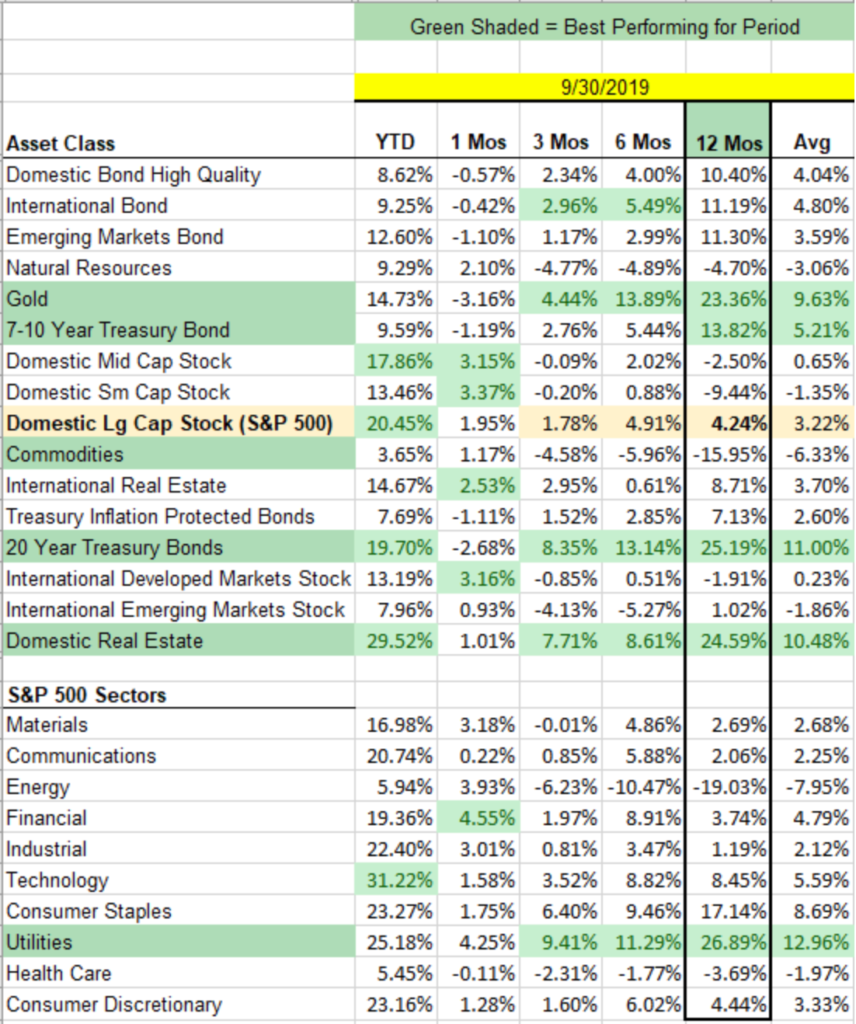 What can we conclude?
I hope that puts things into perspective. We are currently in the longest term economic advance and bull market in history. It seems investors are getting wary. The inverted yield curve, purchasing managers index below 50 and other economic factors such as trade disputes are behind investors' concerns.
Investors are clearly becoming more risk averse. Keep your eyes open for sudden losses and opportunities in the coming weeks, months and years.
If you have more market questions, we're here for you.
At Bartley Financial, we care about way more than your finances. We care about the life you're trying to live, finances are just a piece of that. Call us anytime if you need fresh ideas for your finances or help in achieving your goals. We're happy to help!